Crockery, Cutlery and Glassware Hire for All Occasions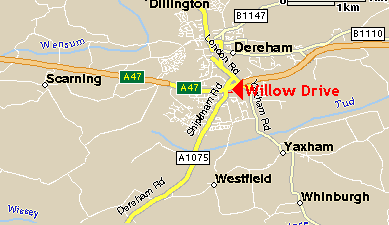 Crockery to be collected from and returned to:
Mr B Parker, Dereham Crockery Hire Service, Hideaway, Willow Drive, South Green, Dereham, NR19 1PU.
Willow Drive is not shown on the map and is not marked, but is on the A1075 about 50 metres south of the A47 flyover on the east side of the road, between the flyover and Rash's Green.
If coming from the south, when you see the flyover, pass Rash's Green and look out for a sign on the right side of the road pointing to Bike Shop and RS Motors. Drive down the lane 50 metres to the telephone box and turn left. Hideaway is the second house on the right.